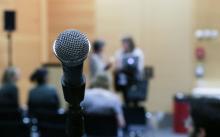 The World Health Assembly is an important meeting for Cochrane and our partnerships. Here Sylvia de Haan, Partnership Coordinator for Cochrane, discusses what it is, our involvement thus far, and plans on making the most of our attendance.
Once a year the World Health Assembly (WHA) brings together 3,000 people representing 194 member states and more than 100 other organizations to discuss and debate global public health issues. The meeting runs for six full days and addresses topics such as health emergencies, childhood obesity, healthy ageing, nutrition, health systems, and infectious diseases, just to name a few. This is the place where global public health policy is discussed, debated, and agreed upon.
Cochrane has been in official relations with the World Health Organization (WHO) since 2011, and we have attended WHA meetings on and off since then. We have made statements in response to WHA agenda items, such as a statement this year on conflict of interest. This year we also organized, jointly with Health Technology Assessment international, a side event about evidence-informed decision-making and attracted around 100 people to that session.
However, it is probably not the involvement in formal events and WHA agenda items that make the difference. The WHA is all about networking. Ministerial delegations, WHO staff from headquarters and the regions, as well as civil society organizations, meet at the Palais des Nations in Geneva and get business done. A lot of connections are made, ideas brainstormed, and possible collaborations discussed.
'During one single day I met with staff from various WHO departments and regional offices, with several member states delegations, and with other NGOs. This is a really unique venue for Cochrane to engage with a whole range of potential users of our work, and receive their input on their needs and priorities, and test how well we respond to these demands', says Karla Soares-Weiser, Deputy Editor in Chief at Cochrane.
Till now Cochrane has been developing its WHA presence slowly. We have made a couple of statements over the years, connected to partners, and organized a side event. But shouldn't we be doing more? And how can we make sure that you and your Cochrane Groups benefit directly from this investment? How can the Cochrane delegation best represent you all?
One great idea for the next WHA is expressed by Julie Wood, Head Communications and External Affairs at Cochrane: 'While preparing for the Global Evidence Summit in Cape Town next year, we should really think about how we can use the 2017 WHA to connect to African delegations and enthuse them to participate in the Summit and share their needs and experiences in evidence informed health care. I am certain that this will greatly enrich our debates in Cape Town.'
We will certainly pursue this suggestion. If you have other ideas or would like to discuss how your Cochrane Group could profit from the WHA, please get in touch!
Sylvia de Haan
sdehaan@cochrane.org
Partnership Coodinator
Communications and External Affairs Department
July 18, 2016