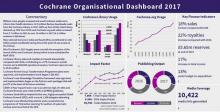 2017 Dashboard is keeping us on track for 2018
Cochrane's Annual Dashboard presents some key metrics on our organizational performance over the previous calendar year. It includes data on Strategy to 2020 target achievements, and key metrics around the four Strategy to 2020 Goals. It's an excellent tool to use to reflect on what we accomplished in 2017 and the work to be done in 2018.
Some highlights from the 2017 dashboard include:
Record numbers of people accessed and used Cochrane evidence to inform their health decisions: 12.5 million Reviews accessed from the Cochrane Library in 2017 (28% up from 2016); and Cochrane.org web visits increased from 5.7 million in 2015 to over 15 million in 2017.
New national licences in India and South Africa contributed to 3.66 billion people worldwide having free at the point of use access to the Library.
All of Cochrane's 2017 targets were met with the exception of the launch of the new Cochrane Library (which is now scheduled for April 2018).
Cochrane Library sales and royalties increased dramatically compared with 2016, contributing to a 17% increase in overall income and a £269,000 operational surplus. Cochrane reserves rose to £5.65 million.
March 29, 2018