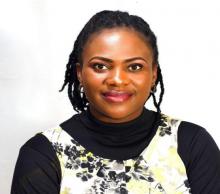 The Annual Anne Anderson Walk is a cherished annual social event in Cochrane, where attendees explore the Colloquium host-city by foot with a guide. Donations by participants are made to next year's Anne Anderson Award. Given current COVID-19 circumstances, the Cochrane community will be not be gathering for the Colloquium in 2021. However, we are holding a Virtual Anne Anderson Walk this year...join us as we share our walks from all over the world!
To accompany this Virtual Anne Anderson Walk, each week we will share blogs from women across Cochrane. Over the coming weeks, we will highlight Cochrane womens' accomplishments, honor their experience, and learn from them, while celebrating the breadth and depth of experience they bring to our global community.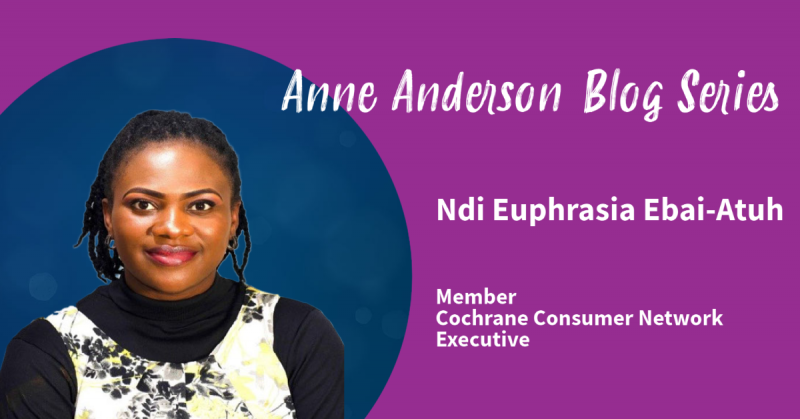 Euphrasia is a consumer advocate, assistant lecturer, wife and mother of four biological children. She is a founding member and vice president of the Cameroon Consumer Service Organisation (CamCoSO) since 2015. She currently leads the Programs and Decision Support Teams (PDST) of CamCoSO. She is a teaching staff member of the Accounting Department of the Catholic University of Cameroon (CATUC), Bamenda, and she has 7 years lecturing experience in Accounting, Finance, and Management courses. Euphrasia got involved with Cochrane in 2017 as a consumer referee and ever since then has been providing consumer inputs to a number of reviews, earning some recognition. She is currently serving as a member of the Cochrane Consumer Network Executive. She is also very present in evidence conversations in Africa and is a member of the Africa Evidence Network (AEN).
What impact has Cochrane had on your career so far?
The very concept of Evidence Informed Decision Making (EIDM) in general has revolutionized my approach to work as a consumer advocate. It has shifted the focus from other stakeholders of the consumers' rights space, such as government authorities, and producers or suppliers of basic commodities and services, to the consumers themselves. Instead of primarily relying on other stakeholders to protect and promote the consumers' rights, we now invest more in empowering the consumer to make informed choices concerning basic services such as health care, education, water and sanitation, etc. 
I have participated in several Cochrane trainings, particularly the Knowledge Translation Mentoring scheme of 2019/2020, that have permitted me to keep fine-tuning my skills in communicating information to consumers of various literacy and psycho-social capacities.
My Cochrane 30 Under 30 recognition in 2019 projected me as an evidence actor, and I believe that this played a crucial role in my subsequent nomination for the Africa Evidence Leadership Award (AELA, 1st runner up 2019). The AELA has created for me a strategic platform from which I can actively participate in evidence conversations at the level of the continent (Africa).
Most recently, my appointment to the executive board of Cochrane Consumer Network is promising to be a vital door opener within the education/academic area. This could be a game changer in health care evidence uptake, in that it could facilitate the institutionalization of evidence recommendations and initiatives.
Who are your role models or mentors as you navigate your career?
I don't have a career in science per say, but my work as a health care stakeholder makes use of science outputs. As a consumer advocate, to promote access to quality basic services such as health care, I use evidence such as systematic reviews of health conditions (an example of a science output). Thus, the people I am about to mention here may not necessarily be of the science background themselves, but they have and continue to serve as my models/mentors in my EIDM advocacy role.
Dr. Mbah Patrick Okwen (MD), Team Lead of Effective Basic Services (eBASE), Africa
Prof Ruth Stewart, Direct of Africa Centre for Evidence, University of Johannesburg 
Dr. Richard Morley, Consumer Engagement Officer, Cochrane 
I have come to understand and appreciate the synergistic effect of positive collaboration from these mentors. They believe in the power of networking to achieve greater and more sustainable impact, while leaving no one behind.
What current challenges and opportunities do you see for women in science?
I have noticed that in my part of the world (Africa), science disciplines, jobs and careers are still looked upon as something "fit for men". We have more girls than boys in schools, but a majority of science students are boys, with most girls resorting to arts and social science disciplines. This is partly due to the connotation society has labeled on science, as being fit for men.
In my community, the burden of day-to-day family chores rests primarily on the women, even in situations where both husband and wife are regularly employed. This affects women's career choices. As a result, a good number of women go in for teaching jobs at primary and secondary schools, so they have enough time to take care of children and perform household chores. This generally affects women in all fields or careers, including women in science.
On the other hand, there are a handful of opportunities for women in science, such as the numerous STEM (Science Technology Engineering & Mathematics) scholarships for girls and women.
April 29, 2021