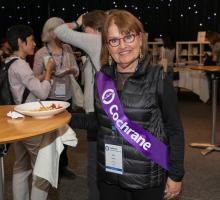 The Cochrane Community Exhibition Stand has traditionally been a hub of activity and a gathering point for both members and for those new to Cochrane - we want you to be a part of it!
Our annual event, the Cochrane Colloquium, brings together members of the community, staff, and newcomers to Cochrane. Amongst the wide range of workshops, activities, social events, and support we are offering, we would like to ensure that consumers, students, early career professionals, and first time Colloquium participants have easily identifiable people to ask questions to and the chance to learn about the wide a range of Cochrane activities.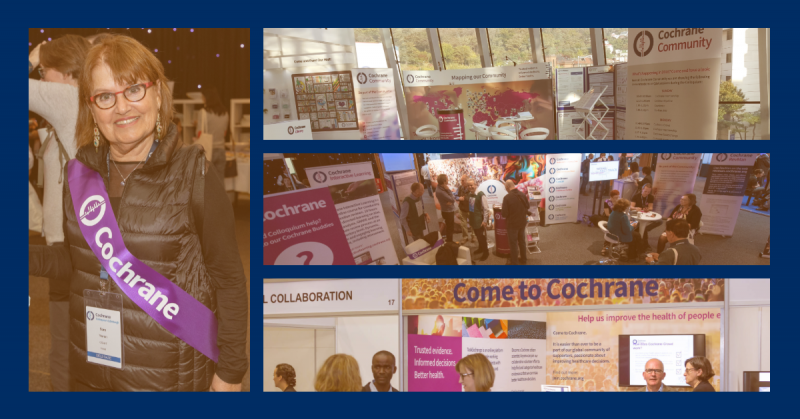 Cochrane Groups are welcome to contribute a few PowerPoint slides to be added into rotation on the tv screen at the Community Exhibition Stand. Even if members of your Cochrane Group can't be there, this is a great way to be a part of the Colloquium! These slides should be Cochrane-branded (widescreen 16:9) with your group's logo and be focused on visual content (i.e. not text heavy). They can be emailed to Sabrina Khamissa (skamissa@cochrane.org) for consideration. Some suggestions of slide content include:
A photo of your Group's members
Some pictures from a recent event your Group held
Your Group's key achievements
Attending the Colloquium? Help out at the stand! This means that during a few breaks or at lunch you will be available to provide support and information to those who need it. We'll provide you with a lovely Cochrane sash for you to wear so that people know they can approach you if they have questions. We plan to run this service from the Cochrane Community Exhibition Stand (but you can wear your sash elsewhere too!) and will have slots you can sign-up for.  We are looking for people who:
Have attended multiple Cochrane Colloquia
Understands Cochrane, what we do, how we do it, and wants to share their passion for evidence-based decision making with others
Knows who to put people in touch with from the Cochrane Community
As we get closer to the event we will share profiles of those who will be at the Cochrane Community Exhibition Stand. You can sign up by filling-in your information in this quick survey.
Learn more about the 26th Cochrane Colloquium Santiago
15 July 2019