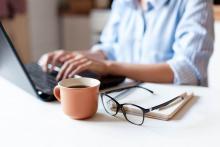 Cochrane is delighted to announce today that Editorial Manager from Aries Systems has been selected as the provider for its future Editorial Management System (EMS). 
 
After many months of consultation and a rigorous tender process, Editorial Manager has been chosen to provide Cochrane editors and authors with an EMS that will improve the efficiency and visibility of the organization's editorial workflows, providing an experience that is comparable with that of other global scientific publications. 
 
Over the last 12 months, this programme of work has been part of an organizational priority for Cochrane that aims to implement an improved editorial management solution for Cochrane Review production and will replace parts of the primary system for editorial workflows for Cochrane Reviews, 'Archie', which was developed in-house and has been in place since 2003.
 
How will it work? 
 
Cochrane Reviews will be managed from expression of interest through to publication within the new EMS. Editorial Manager will enable transparent communications about each Cochrane Review between editors, author teams, peer reviewers, and copy editors, all hosted within the EMS, and it will allow for easier reporting about a Cochrane Review Group's (CRG) Reviews. The peer review process will be managed completely within Editorial Manager, promising greater ease for this aspect of Review production. The EMS will also incorporate workflows for Cochrane Clinical Answers and Podcasts that will allow for heightened communication regarding all of our content. Additionally, the cloud-based and advanced technology of the system promises to provide significantly enhanced stability, minimizing delays currently experienced by CRGs.
 
Why is it important? 
 
The selection of Editorial Manager is a defining moment in Cochrane's extensive programme of work reviewing the various EMS solutions used by our editors and authors to prepare Cochrane Reviews and the other content published in the Cochrane Library. In recent years, elements of the technology that Archie is built on have become obsolete; this has presented maintenance challenges and has limited feature development. The EMS marketplace has also evolved since 2003, and it was decided late last year that the editorial functions held by Archie would be decommissioned. Throughout this year, the EMS Project Team and Board have reviewed available commercial EMS systems and collaborated with the Cochrane community on an in-depth review and mapping of editorial workflows. These processes have culminated in the selection of Editorial Manager as the best system to meet Cochrane's EMS needs going forward.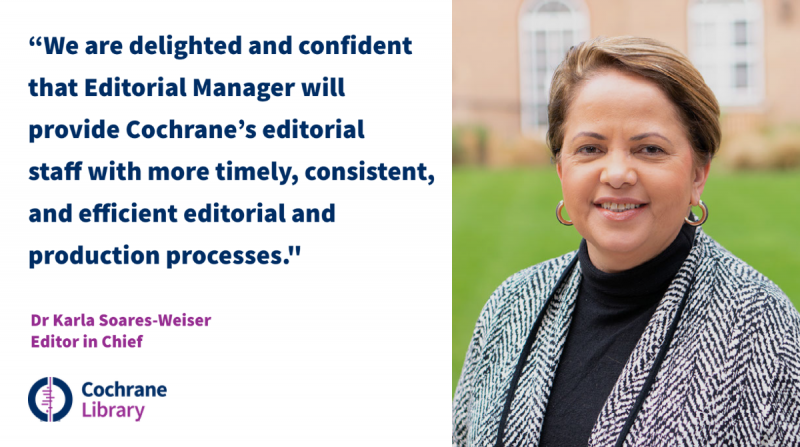 Karla Soares-Weiser, Editor in Chief of the Cochrane Library, said of this announcement: "This is a very important moment for Cochrane. We are delighted and confident that Editorial Manager will provide Cochrane's editorial staff with more timely, consistent, and efficient editorial and production processes, enabling and improving our important evidence synthesis work and ensuring the future sustainability of Cochrane's review production."
 
Chris Mavergames, Cochrane's Head of Informatics & Technology Services, Chief Information Officer and project lead said: "We are very pleased with the way Editorial Manager will simplify and streamline the editorial workflow for CRGs. Its implementation will facilitate the work of our editors, particularly Managing Editors."
 
What happens now?
 
The next steps for this programme of work will include the customization of Editorial Manager for Cochrane editorial workflows and further planning of implementation. The Fertility Regulation Review Group will pilot Editorial Manager once the editorial workflows have initially been put into the system, and adjustments to the system will be made.
 
This pilot will begin in November 2020 and will be followed by further implementation of the EMS to the other CRGs in the Children and Families Network, with a view of moving to live usage of the system in early 2021 for new editorial submissions. 
 
Further implementation will move forward on a Network-by-Network basis, with ample time for training and practice prior to going live. An in-depth training and support plan for all CRG staff is in development, and Cochrane's Community Support, Managing Editor Support, and EMS Community Liaison teams are being provided initial training on the system now. 
 
These teams will be in frequent communication with the CRG community throughout implementation of Editorial Manager, and CRGs will be fully supported as they move onto the new system in the coming year.
Updates about the EMS programme of work are frequently posted on the EMS website on Cochrane Community; visit the EMS site
October 28, 2020