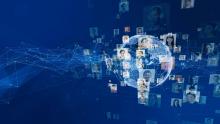 Dear Community members and friends,
We would like to thank those of you who joined us for Cochrane's virtual Governance Meetings last week.  
We're delighted that 360 members from 49 countries attended the two sessions on 22 and 24 June; 128 one-to-one networking sessions were held; and 246 people were part of the breakout sessions.
We particularly enjoyed hearing your views through the event live chat, plenary Q/A, and responses to the Polls. Whilst we answered a number of your questions during the live sessions, we were unable to respond to them all. As promised, we are gathering all your questions, grouping them into themes and will provide responses to the frequently asked questions in the coming weeks. We know that there was specific interest in wanting more information on:
Cochrane's Strategy for Change;
Cochrane's consultative and research project on Open Access;
Our plans for future funding opportunities; and,
Cochrane's plans for Review Production models.
We will provide updates on these key strategic areas in the coming weeks.
If you would like to watch and hear what happened:
We want to hear what you thought of the meeting overall and improvements we can make for future, virtual Cochrane gatherings. Please can you answer this short survey. Your feedback will help inform our future events strategy.
If you weren't able to attend the meeting, please can we ask you to complete this question so that we can plan for maximum attendance at future Cochrane gatherings.
We look forward to meeting with many of you again over the coming months - should you have any questions, please don't hesitate to contact us and we will get back to you – support@cochrane.org
We look forward to working with you as we shape Cochrane's future together. 
With our best wishes,  
Catherine Marshall and Tracey Howe
Co-chairs of the Governing Board                   
Judith Brodie
Interim Chief Executive Officer                          
Karla Soares-Weiser
Editor-in-Chief
June 29, 2021