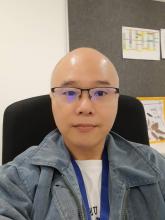 Dear Cochrane Members,
Thank you for voting in the re-run Cochrane Council election!
Nai Ming Lai has been elected for a three-year term as an Author representative on the Cochrane Council. Nai Ming is Professor of Paediatrics at the School of Medicine, Faculty of Health and Medical Sciences at Taylor's University in Malaysia. Trained as a Paediatrician and Neonatologist, Nai Ming has been a Cochrane author since 2004 with 26 reviews at various stages of development with 12 different review groups. He has multiple other roles in Cochrane, including associate editor in Cochrane Neonatal and Cochrane Clinical Answers, editor in Cochrane Malay translation group, peer reviewer and annotator in Cochrane Linked Data Project. He serves as consultant in systematic review for the Malaysian National Institute of Health and mentors researchers from different parts of the world in systematic review development. He will work alongside fellow author representative Vanessa Jordan.
Thank you to all the candidates who stood in these elections. The vote count for the Council election is available upon request by email to elections@cochrane.org.
9 November 2022