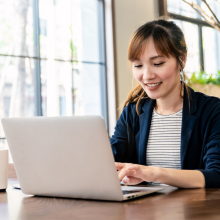 Cochrane was founded in 1993 and has grown into a global network producing gold standard evidence syntheses. Over those years we've been doing things the same way and the field has evolved during that time. To maintain our place as one of the world's leaders in producing trusted evidence, we are making some big changes in 2023 so that we can more easily innovate in how we share and use evidence to meet our stakeholders' needs.
Key to achieving this is having trusted and timely synthesized evidence (a fundamental goal of Cochrane). But currently, producing trustworthy content takes a lot of time and effort. To make our evidence more usable we need to be able to innovate; and to be able to innovate we need a solid foundation to build on. This is what the review format project in Cochrane aims to achieve. This foundation to enable future innovation is improved data management and a more focused article format.
Improvements to data management were launched in April 2023, which involves managing data at the study level within our authoring tool, RevMan. This creates a host of benefits for authors (see What you need to know about improvements to data management in RevMan), increases the impact of Cochrane evidence through improved data re-use (see Cochrane is improving the way we manage and share data associated with our reviews), and will enable us to better leverage data to create new products as we move forward.
The next milestone for the review format project is the more focused article format, which will launch in September 2023.
What do we mean by a more focused article format?
Reviews will be shorter
Users of evidence are best served by a more focused article without duplication of information in different parts of the review, which also makes writing and updating them simpler.
There will also be a clearer distinction between the main article and supplementary materials. Everything in the main article should be focused on addressing the review's objective and supporting its conclusions. Supplementary materials will contain additional data and information that support or enhance the article, including the search strategies, all characteristics of studies tables, risk of bias tables, a full analyses package (with comparisons and forest plots), and the full downloadable data package, among others.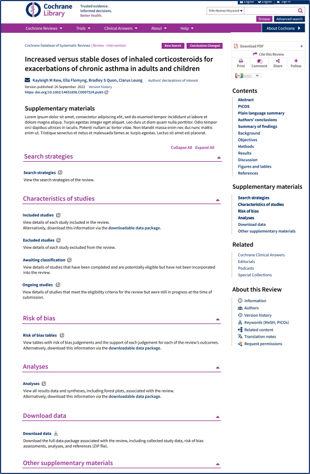 Subheadings changes with streamlined reporting
The main body of the review will contain sections that are most useful to users of Cochrane evidence. We're updating these to improve the consistency across review types and include some new ones to highlight the integrity of Cochrane reviews, including adding protocol and funding information to all Abstracts and declarations relating to data, code and other materials used in the review.
For intervention reviews, subheadings will better reflect PRISMA 2020 (see Reporting standards: changes to help create practical and sustainable Cochrane Reviews). Some of the main changes include more structure in the abstract, the removal of sections where text is duplicated within a review, and new sections focusing on equity and consumer involvement. For other review types, we discussing changes with the relevant Methods Groups (due in 2024).
A new review template will aid authors in what to report where to ensure compliance with PRISMA 2020 and will improve consistency across Cochrane reviews for readers.
Technological complexities addressed
Functionality on published Cochrane Reviews (or hidden underneath in the code!) has been built on each other over the years. A big part of the 2023 developments to the review format was to reduce the technological complexities that had developed to enable Cochrane to be more responsive in enhancing content going forward. This was a huge, mostly invisible, part of the work.
 
Help us get the resources right!
As with all new things, it can take a little while to get to grips with them, but our team is working hard to make them as simple as possible for authors with guidance and resources to help with the change. We really want your input and feedback so we can build this together.
In October, there will be a Learning Live webinar Changes to the review format with study centric data and a focused review article: What does it mean for authors? that will take you through the guidance and support that's available for you (register now to join us!). Once launched, the resources and tools will continue to be developed as we get your feedback on what's clear and what's not.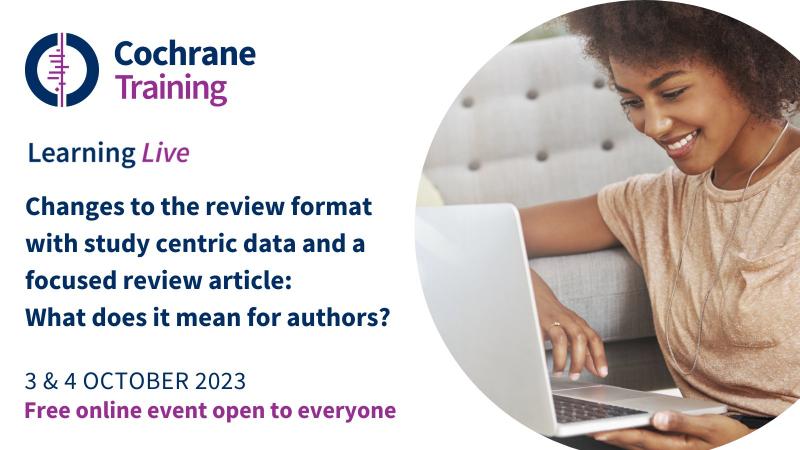 These changes will create a strong foundation for Cochrane Reviews so we can innovate in how we share and use Cochrane evidence. They will make Cochrane Reviews more focused and make systematic reviewing more efficient, enabling us to better meet our stakeholders' needs. We're going to be agile and developments will be iterative so we can ensure they support the best possible experience for those involved in systematic reviewing. We look forward to sharing more news about other changes in the coming months.
17 July 2023