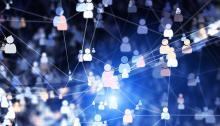 Dear Cochrane friends and colleagues,
I am writing to you with my final update of 2020 regarding Cochrane's COVID-19 response over the past two weeks. I also wanted to take the opportunity to thank you for all the work you have done during this challenging year.
The above publications provide just some highlights from what has been a truly unprecedented year, with significant disruption to our lives, both personal and professional. Throughout 2020, the Cochrane Community has come together in impressive collaboration to tackle the challenges that COVID-19 has presented, achieving quality evidence synthesis and doing knowledge translation in multiple languages, formats, and channels, across the globe. I am deeply proud and honoured to have been part of this work, and I hope you will take the time to recognize all that you and your colleagues and friends across Cochrane have done this year. 
I also want to recognize the myriad non-COVID-related work done this year. Against a backdrop of a global pandemic, the Cochrane Library saw the publication of 505 reviews and updates (up to 10 December). Reviews have used diverse methods to reduce uncertainty in decision-making for a range of different health conditions and policy contexts. Network meta-analyses have assessed different treatments used in eczema, in excessive blood loss after childbirth, and in liver disease. Reviews have looked at diagnostic tests used in detecting glaucoma, meningitis and tooth decay. The first review from the Risk of Bias 2 pilot and prognosis reviews in cancer have also been completed this year. Qualitative evidence addressing stopping smoking, mobile health technologies and recruitment to randomised trials have also featured in reviews published this year. 
Whether you who have worked with us on the response to COVID-19, or you have helped to ensure coverage of topics in the Cochrane Library retains the breadth our users expect: thank you. You have helped decision-makers across the world during the greatest public health challenge of this or any other time in living memory. I am grateful for all of your work, and I wish you a restful, healthy, and safe end-of-year holidays.
Stay well and best wishes,
Karla Soares-Weiser 
Editor in Chief, Cochrane Library
December 18, 2020