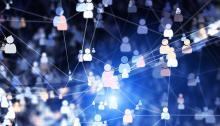 Dear Cochrane friends and colleagues,
I hope you and your loved ones are safe and well.
As Cochrane's activities and organizational response to the COVID-19 global pandemic escalates, I want to share with you a weekly update on our activities and immediate plans relating to the growing breadth of work taking place across our Community.
During this week (30 March 2020), there have been many new developments and initiatives, some of which I will briefly summarize here. You can also read the full details about Cochrane's response on https://www.cochrane.org/.
Special Collections: 
Fast-tracked updates: 

The update for the review on 'personal protective equipment for preventing highly infectious diseases' was submitted for fast-track editorial processes on 31 March 2020.

Rapid Reviews:

A new website for all information on Cochrane's COVID Rapid Reviews was launched, https://covidrapidreviews.cochrane.org/.
The first wave of a prioritization process with a survey was sent to stakeholders on 1 April 2020. We received over 300 responses in the first 24 hours and around 40% of respondents thus far are from public health professionals and healthcare workers in hospital settings. Results will be available on 6 April 2020, and we will be making decisions on the production of future reviews based on these findings. 
Three Rapid Reviews are currently planned to be published during the first two weeks in April. Here is an overview: 

| | |
| --- | --- |
| The Effectiveness of Quarantine to Control the Coronavirus Disease 2019 | Submitted: 24 March |
| Adverse effects of non-steroidal anti-inflammatory drugs (NSAIDs) in acute viral respiratory infections | Submitted: 3 April |
| Efficacy of ash as an alternative to soap for cleaning hands | Submitted: 30 March |
A survey was launched to identify those outcomes that are important to those affected by COVID-19 by an international group of researchers, including Cochrane colleagues.
COVID-19 Living Study Register will be launching next week. We are working to capitalize on Cochrane's existing evidence ecosystem and create a living register of COVID-19 studies that is publicly available with enriched metadata to facilitate discoverability via faceted search and browse and with 'export' features. After launch, we will continue to improve the register in the coming weeks and months to support rapid synthesis.
Finally, here's how you can get involved. If you would like to contribute to this work, there are multiple ways: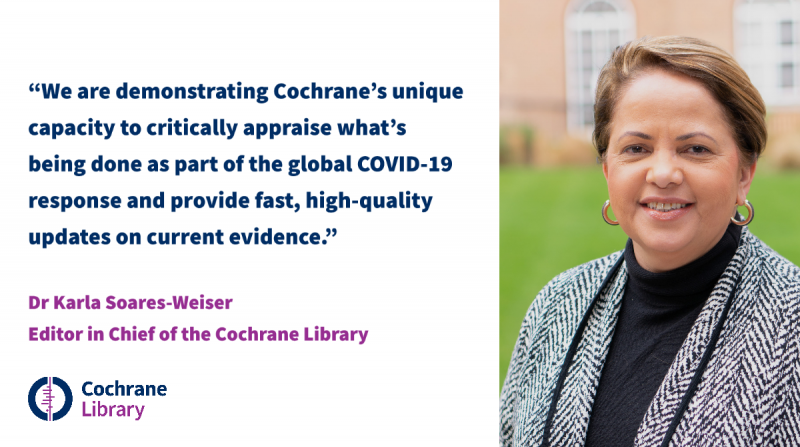 Through these actions, we are demonstrating Cochrane's unique capacity to critically appraise what's being done as part of the global COVID-19 response and provide fast, high-quality updates on current evidence. These efforts would not be possible without the astonishing collaborative and coordinated work being achieved every hour of every day across our global network of contributors and supporters. 
On behalf of Cochrane, I thank you. This week, as I have met virtually with many groups across the Cochrane Community in lieu of the in-person meetings previously planned in Manchester, I have been overwhelmed by the support and enthusiasm for the work we are doing. I look forward to keeping you closely informed of all these activities with more news and information in my weekly updates. 
My very best wishes and stay well,
Karla Soares-Weiser (MD, MSc, PhD)
Editor in Chief, Cochrane Library
April 3, 2020