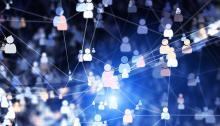 Dear Cochrane friends and colleagues,
I hope this message finds you well and healthy. I write with my update regarding Cochrane's COVID-19 response and editorial projects over the past two weeks. More information about our work can be found on Cochrane.org. 
COVID-19 response
Editorial updates
Editorial Integrity and Efficiency Project: We officially launched the Editorial Integrity and Efficiency Project on March 23, and you should have received an email about this launch. Throughout the project, frequent updates will be provided on the project webpage, as well as in monthly Join the Conversation webinars and in these emails. To ask questions or provide feedback on this project, please use this query form.
Join the Conversation: Thank you to Toby Lasserson for hosting this month's webinar, and to Neil O'Connell, Eve Tomlinson, and Deirdre Beecher for their excellent presentations. Recordings from the webinar will soon be posted. 
If you are taking some time over the coming days for leave, I wish you a good and restful break.
Stay well and best wishes,
Karla Soares-Weiser 
Editor in Chief, Cochrane Library
April 1, 2021