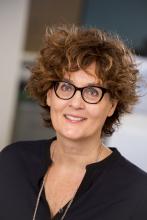 Cochrane has named seven Emeritus Coordinating Editors in 2020, celebrating their achievements and recognizing their efforts over many years of service. In this profile, we hear from Anne Schilder, who is Coordinating Editor of Cochrane Ear, Nose, and Throat.
Can you tell us about yourself?
I am a professor of otorhinolaryngology (ear, nose and throat) and trialist based at the University College London (UCL) Ear Institute. I lead the NIHR UCL Hospitals Biomedical Research Centre (BRC) Hearing Theme, where we develop innovative treatments for hearing loss, for example drug, gene and cell therapies to protect or restore hearing. My current research focuses on how we best introduce these new treatments into clinical practice and uses a range of methodologies: from trials to artificial intelligence, health economics and implementation science. As National Specialty Lead of the NIHR Clinical Research Network, I guide clinicians across the UK in growing and delivering ENT research within the NHS. I also hold a chair at the University Medical Center Utrecht in the Netherlands, where I work with primary care researchers on developing evidence based interventions for middle ear infections in children. I practice paediatric ENT at the Royal National ENT Hospital in London and the primary care centre 'Binnenstad' in Utrecht.
What are you most proud of from your time with Cochrane? 
I am most proud of Cochrane ENT developing a method and setting an example on how to prioritise topics and outcome measures, focusing on what matters most to patients and professionals. Do have a look at our series of Cochrane reviews on chronic sinus problems and middle ear infections.
What is your fondest memory over your tenure at Cochrane?
The friendship within our editorial team, Sam, Jenny and Martin, it is so precious.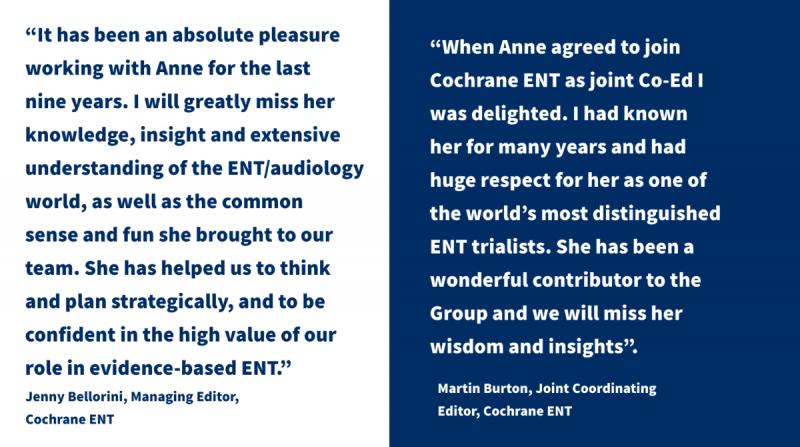 As you leave, what are your hopes for Cochrane's future?
I hope Cochrane embraces novel approaches to synthesizing evidence beyond clinical trials. Observational data hold a wealth of valuable data to inform clinical practice.
What are your future plans? Where are you headed after leaving Cochrane?
I am not really leaving Cochrane, how could I? I will continue to work with Cochrane by writing systematic reviews and delivering the trials to inform those. My professional life is full as you can see above, so there is still plenty to do, but I hope there is a bit more time for my pottery.
Anne's Joint Coordinating Editor, Martin Burton, said, "When Anne agreed to join Cochrane ENT as joint co-ed, I was delighted. I had known her for many years and had huge respect for her as one of the world's most distinguished ENT trialists.  She has been a wonderful contributor to the Group and we will miss her wisdom and insights."
Managing Editor of Cochrane ENT, Jenny Bellorini, commented, "It has been an absolute pleasure working with Anne for the last nine years. I will greatly miss her knowledge, insight and extensive understanding of the ENT/audiology world, as well as the common sense and fun she brought to our team. She has helped us to think and plan strategically, and to be confident in the high value of our role in evidence-based ENT."
Congratulations and best of luck, Anne!
December 16, 2020