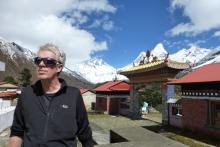 Cochrane has named seven Emeritus Coordinating Editors in 2020, celebrating their achievements and recognizing their efforts over many years of service. In this profile, we hear from Jim Neilson, who is Coordinating Editor of Cochrane Pregnancy and Childbirth.
Could you please provide us with a short bio?
Jim Neilson is Emeritus Professor of Obstetrics and Gynaecology at the University of Liverpool, UK. He graduated at the University of Edinburgh in 1975 and trained in Scotland and Zimbabwe. As a research fellow in Glasgow, he led one of the first randomised trials of routine ultrasound in pregnancy and became, following a chance meeting with Iain Chalmers in Zimbabwe, an early author of systematic reviews for the Oxford Database of Perinatal Trials – the forerunner of the Cochrane Library. He was Co-ordinating Editor of the Cochrane Pregnancy and Childbirth Group 1995-2020, among the most productive of Cochrane review groups, worldwide.  He served as co-Chair of the Cochrane Collaboration Steering Group 2002-05. As a clinical obstetrician, based in Liverpool Women's Hospital 1993-2015, Jim Neilson continued a long-standing interest in multiple pregnancies, which complemented a Wellcome Trust funded research programme on preterm birth in Malawi, with Professor Nynke van den Broek of the Liverpool School of Tropical Medicine. Jim Neilson was centrally involved in the UK Confidential Enquiry into Maternal Deaths (latterly as part of MBRRACE-UK) between 1995 and 2015, and was inaugural National Institute for Health Research (NIHR) Dean for Faculty Trainees in England 2008-2015, overseeing a £100m annual support for research training at different levels in medicine, dentistry, nursing and allied health professions, and other areas of applied health research. He has been involved in a number of projects with WHO, including the production of evidence-based clinical guidelines, clinical trial oversight, and research capacity development in low and middle income countries. Jim Neilson was given an NIHR Senior Investigator Award for applied health research excellence in 2008, renewed 2011.
What are you most proud of from your time with Cochrane?
I am most proud of the outstanding productivity by Cochrane Pregnancy & Childbirth – achieved by the editorial office team, the editors, and the reviewers from all corners of the world. OK, we had a head start from the outstanding pre-Cochrane work by Iain Chalmers and colleagues at the National Perinatal Epidemiology Unit in Oxford, but that was almost 30 years ago. Our success as a group has been based on exceptionally hard-working and committed people in the editorial base who were or have been with the Group for years and therefore became very experienced – Managing Editors initially Sonja Henderson, then and now Frances Kellie, Deputy Managing Editor Leanne Jones, Information Specialist Lynn Hampson. Our editors mostly have a clinical background; they are all experienced systematic reviewers; we have never gone for inactive figureheads. We mainstreamed quite early in clinical obstetrics and midwifery, so weren't seen as a group of outsiders I think, but rather a central bit of the research landscape. You go to conferences in Bogota or Bangkok or Brisbane and so many of the presentations of original pregnancy-related research start with a slide summarising evidence from the relevant Cochrane review. Curiously, the (hardworking) review authors are never ever acknowledged: "Cochrane says ….." 
Attached is a photograph from our last face-to-face editorial meeting in Liverpool in 2015. These people are wonderful. I am very happy that my excellent colleague, Zarko Alfirevic, took on the role of Co-ordinating Editor, now on his own.
I am proud that we have covered most of the key questions in our subject area at one time. Keeping reviews up-to-date is still an enormous challenge, however.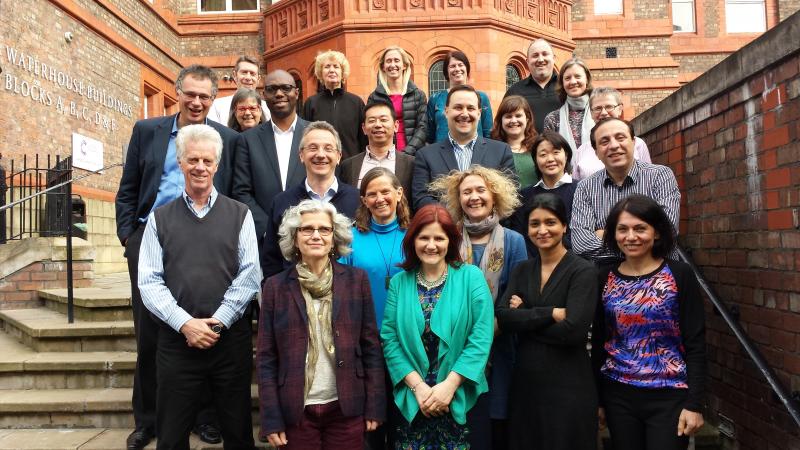 I am proud that so many of our reviews have been fed into evidence-based WHO clinical guidelines for global use.
What is your fondest memory over your tenure at Cochrane?
I have especially fond memories of the early days of Cochrane – the excitement of being part of something really special and innovative and visionary, interacting with some exceptionally talented people from all over the world, who carried with them surprisingly little ego.
A small group of us used to meet regularly in Oxford in the early days to plan the development of the Cochrane Pregnancy & Childbirth Group. Murray Enkin, an obstetrician from Canada, was based in Oxford and was Co-ordinating Editor for the first two critical years working alongside Jini Hetherington in a role that would now be called Managing Editor. Marc Keirse and Mary Renfrew were the other editors.
I loved the excitement and dynamism of the early Colloquia. I have particularly fond memories for some reason of the 1995 colloquium on the top of Holmenkollen in Oslo in thick fog with the constant drip drip of drizzle and zero views. It was a bit of a fractious meeting but cleared the air over several difficult issues – inevitable really when, as Dave Sackett put it at the colloquium, we were still building the aeroplane while it was already in flight.
As you leave, what are your hopes for Cochrane's future?
There are several difficult challenges ahead: reconciling a sustainable financial model with open access to reviews; getting the right balance between a rapidly expanding central organisation and the 'distributed organisation' that was once the Cochrane hallmark; making sure that review output doesn't dry up through obsession with methodological perfection. I wish the Governing Board and Central Executive team well in meeting the challenges. I guess the overarching challenge is to sustain a professional and efficient organisation without Cochrane losing its soul. My hope for the future is that Cochrane does retain its soul and does appeal to new generations. I really hope it does.
What are your future plans? Where are you headed after leaving Cochrane?
I retired from clinical practice and academic work 5 years ago and am now living in Scotland, where we can easily access spectacular mountains and beaches. My wife and I have done some great Himalayan treks in recent years (see photo) and had planned more. Our daughter is currently living in New Zealand and travel had been an important part of our lives pre-Covid restrictions. Meanwhile my golf is improving. I have been asked to continue as an Editor of the Pregnancy & Childbirth Group so I haven't severed links completely. I still do some work with excellent colleagues at WHO (including on evidence based clinical guidelines) – which I enjoy greatly.
When asked about Jim's leaving, his Cochrane Pregnancy and Childbirth said the following:
"Jim was one of our Co-ordinating Editors until March this year, when he stepped down after 25 years in the role. Jim's dedication and commitment to improving maternity care globally is inspirational and epitomises what we strive to achieve in our group. Over many years, he has been actively involved in clinical care in the NHS, served as Clinical Director (facilitating evidence-base care locally) and has personally contributed to the development of a number of national and international clinical guidelines. 
It has been my great pleasure to have worked with Jim for the last 12 years, I miss his kindness, generosity of spirit and his calm, considered and professional approach. Jim is still a much-loved member of our Editorial Board and I'm delighted that we can continue to work with him and benefit from his extensive skills and experience."
-Frances Kellie, Managing Editor
Cochrane Pregnancy and Childbirth
"I have worked with Jim Neilson in Cochrane Pregnancy and Childbirth for over ten years now. It has been a pleasure working with Jim. He is a true gentleman. As our Co-ordinating Editor he was very kind, considerate and supportive of his staff. During busy clinical days, he would always make the effort to pop into the office to check on the team. His dedication and commitment to improving the health and wellbeing of women in pregnancy and childbirth continues through his work chairing the many international guideline meetings. Jim can always be relied upon for a calm and measured approach in his role as Chair and for his inclusiveness – he always allows each member of the team to have their say. Cochrane Pregnancy and Childbirth owes their continued success to the foundations laid by Jim. We are fortunate that Jim continues to play a crucial role as a much valued Editor within our team at Cochrane Pregnancy and Childbirth."
-Leanne Jones, Deputy Managing Editor
Cochrane Pregnancy and Childbirth
Congratulations and best wishes, Jim!
December 16, 2020