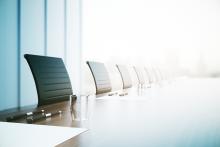 The Cochrane Governing Board is looking for four new members. Cochrane is an international organization but is constituted as a UK charity. Board members are "trustees" of this charity. Charities in the United Kingdom are overseen by the Charity Commission and this Commission emphasizes that being a trustee of a charity is a position with specific rules about the responsibilities of trustees and how they must act. The trustees carry final responsibility for the organization and its staff, and for making sure that everything Cochrane does is for the benefit of the public. Trustees can come from anywhere in the world.
Cochrane is looking for new trustees who not only believe in Cochrane's core mission, but have the skills and experience required to work at the Board level. The Board's elected and appointed members work together, as a team, to set strategy, oversee the operationalization of that strategy and to ensure that Cochrane fulfils its fiduciary and governance responsibilities.
We asked current Co-Chairs Martin Burton and Marguerite Koster to tell us something about being a trustee on the Cochrane Board.
What are the most important qualities Cochrane needs in a Board trustee?
Cochrane's needs are fundamentally the same as any other charity. Trustees should have a strong personal commitment to Cochrane's aims and objectives. All trustees, of any charity, need to be able to act reasonably and responsibly when they deal with the charity's affairs. They also need to be able to put aside their own personal interests, views and prejudices so that they always act only in the best interests of the charity.
This can be difficult, especially since all Cochrane's members work within the organization in some role, such as an author, methodologist, editor, patient or consumer representative, director of a centre, etc. Even though some trustees are elected, once an elected person joins the Board they do not represent the people who elected them. This can be hard to understand, but it is a fundamental principle of trusteeship of a UK charity. You need to set aside the interests of the members of the charity and focus instead on the interests of the "beneficiaries" of the charity. That is, those who benefit from the activities of the charity. In the case of Cochrane, that is the public.
As volunteers, trustees need a high level of commitment because there is a lot of work to do on the Board. Especially between formal Board meetings, when various sub-committees and working groups meet and there are documents to prepare and read. They need to be able to assimilate a lot of information and bring different points of view to any discussion. There will often be times when trustees disagree, but we aim to do this in a respectful and collegial manner. The Board often has vigorous debates about the pros and cons of an issue. But once a vote has been taken and a decision made, it is the obligation of all the trustees to support that decision in public.
Four trustees are to be elected – are you looking for candidates with any specific area of expertise?
We have set out the seven broad areas of expertise and expect that candidates will have at least one of these. Experience of working at Board level in another organization would also be a great advantage although no essential. What is important is a real passion for Cochrane and its work, along with the ability to engage in respectful and constructive debate and ultimately act in the bests interests of the charity.
Who might make an ideal trustee?
There is probably no such thing as an "ideal trustee". Just as people are different, so are trustees! We particularly want membership of Cochrane's Governing Board to be broad and to reflect the diversity of the organization. In addition, trustees must demonstrate personal integrity and be able demonstrate understanding of and commitment to the Cochrane community. Trustees must be able to challenge and debate constructively and show trust and respect for other Board members. They must also understand their roles and responsibilities and the behaviour expected of them, as this is clearly defined by the regulations that govern us.
Why are these Board elections particularly important?
As you will all know, there have recently been challenging times for the Board and we recognize the need for increased Board communication with Cochrane's members. During the Edinburgh Board meeting, four trustees (three elected and one appointed) resigned because they could not publicly support a Board decision with which they disagreed. Consequently, two more appointed members then had to resign so that Board membership would be in compliance with Cochrane's Articles of Association, which stipulate that there must be one more elected than appointed members of the Board. We look forward to getting the Board back up to full capacity as soon as possible so that we can, as a cohesive group, continue to move forward to address important issues facing the organization.
What do you see as the Governing Board's priorities in 2019?
The Governing Board will continue to work with the Central Executive Team and Cochrane members to meet the goals and objectives of the Strategy to 2020. In addition, critical discussions and planning will take place to determine strategic priorities beyond 2020. A formal search for candidates for the Cochrane Library Editor-in-Chief position will move forward now that David Tovey has announced his intention to step down at the end of May 2019.
In addition, the Board intends to work closely with the Cochrane Council to further develop or clarify policies related to submission of and handling of grievances, managing conflicts of interest and understanding and complying with the Spokesperson Policy.
What are you hopes and aspirations for Cochrane in 2019 and beyond?  
As one of our priorities for 2019 and beyond, it is our hope that we can build greater engagement with Cochrane members by working closely with the Council and the groups it represents. Communication between Cochrane's Board, the Council and all Cochrane members is vital to creating and sustaining the culture of commitment, connection, passion, open communication and shared values that is necessary to drive Cochrane's mission forward.
What's your one message to Cochrane members seriously considering their application for election?
Being a trustee of Cochrane is a worthwhile thing to do. It challenges people to develop and effectively use their skills as a leader; to demonstrate passion, commitment and enthusiasm for Cochrane's work; and to act with integrity at all times. It is interesting and rewarding, but it also involves a great deal of work to understand and guide the organization's strategic priorities in a constructive and collaborative manner, and rise above one's own personal interests. One of the most critical requirements is an ability to understand the roles and responsibilities of a trustee, and to commit to fulfilling these responsibilities above all else.
Find out how to stand for election at elections.cochrane.org. The deadline for nominations is 14 November 2018 and all candidates must have activated their Cochrane Membership by 10 November 2018. 
You can check whether you are a Cochrane Member, and amend your communications preferences, at Your Cochrane Membership.
Other resources mentioned in this article:
November 7, 2018