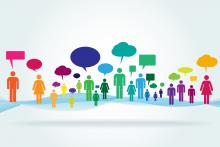 Julie Wood is Head of Cochrane's Communications and External Affairs team, as well as Co-chair of the newly formed Knowledge Translation Advisory Group. Here she provides an update on the development of Cochrane's Knowledge Translation Framework, and outlines next steps for Cochrane contributors to get involved with implementation.
Cochrane has focused much of our work on producing systematic reviews. To achieve our vision, however, we need to not only produce high-quality reviews, but also ensure that we produce the right reviews - and ensure that they reach those who need the evidence at the right time. Knowledge translation (KT) is the vital 'other half' of achieving our ambitions as set out in Strategy to 2020.  
 
During the past 12 months there have been wide-ranging consultations for and contributions to the KT Framework, from across the Cochrane Community. Cochrane Groups and contributors already undertake a broad range of KT activities, so there is much to build upon in delivering Cochrane's KT ambitions.
 
Cochrane's Governing Board approved the KT Framework in April 2017. Now is the time to draw upon the Cochrane community's vast expertise to help define a formal implementation plan that we can submit to the Cochrane Governing Board in Cape Town in September. We have established a KT Advisory Group, which will lead and supervise KT implementation, together with recommendations on the key work priorities for Cochrane during the next 12 to 24 months. Once established, these priorities will be taken forward by working groups. 
We invite the Cochrane community to provide comments on the knowledge translation priorities for Cochrane. Please also let us know, by sending an email to Sylvia de Haan by 31 July, your interest to join one of the following thematic working groups:
Embed prioritization
Improve and scale up of existing products
Translate
Grow capacity in our users
Formalize strategic partnerships
Convene deliberative dialogues
Build KT infrastructure and common language
This is a very exciting new era for Cochrane in shaping our KT implementation plans. KT is essential in achieving Cochrane's vision, and effective KT maximizes the benefit of the work done by our thousands of contributors. Your contributions will ensure our fundamental commitment to the use and impact of Cochrane evidence.
 
We look forward to discussing more with you and taking your questions.

With my best wishes,
 
Julie Wood 
Cochrane's KT Advisory Group Co-chair
 
July 25, 2017