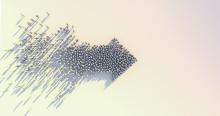 Dear friends and colleagues,
We are very pleased to introduce you to our new organizational strategic plan, the Strategy for Change. This one-page plan will guide our organizational priorities and objectives for the next two years, 2021-2023. You can read it here. You can also read the plan in Spanish.
The Strategy for Change was approved by the Governing Board on 23 June. It is based on the draft strategic framework completed last year, which had extensive input from members and supporters, but has a shorter-term focus on the changes Cochrane needs to make in the next two years to remain sustainable. As we discussed at the Governance Meetings earlier in June, Cochrane is facing some significant challenges, but these also present us with opportunities to innovate and prioritize activities that have the most impact for improving health decision-making.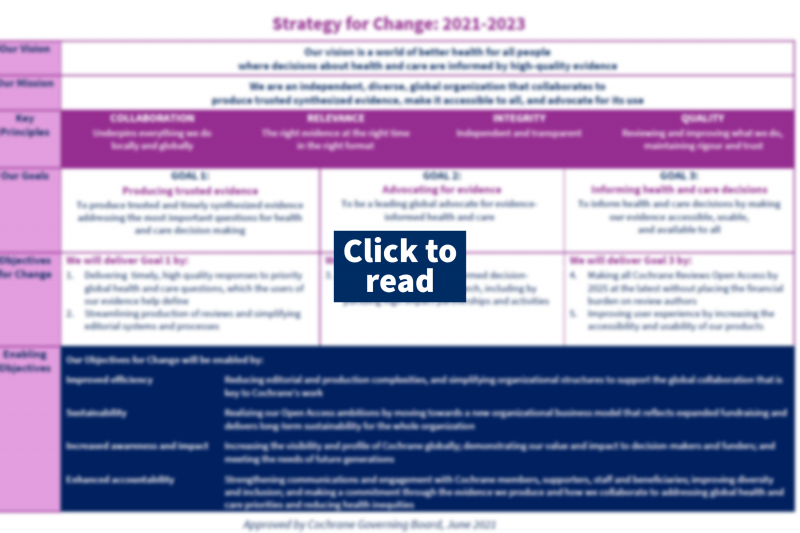 The Strategy for Change's focus on improved efficiency, sustainability, increased awareness and impact, and enhanced accountability, will guide our work over the coming months. Our Objectives for Change to produce timely, high-quality reviews, streamline review production, advocate for evidence-informed decision-making, achieve Open Access, and improve the user experience of our evidence, are the building blocks for our planning and priorities. These Objectives incorporate many of the key themes discussed at the Governance Meetings in June , and we look forward to discussing and implementing the Strategy for Change with you in the coming months.
We hope you will read and engage with the Strategy for Change, discuss it with your Cochrane colleagues, and relay your thoughts to your Cochrane Council representatives. If you have any questions about the Strategy for Change, please reach out to support@cochrane.org. 
With our best wishes,
Catherine Marshall and Tracey Howe
Co-Chairs, Governing Board
Judith Brodie
Interim Chief Executive Officer
Karla Soares-Weiser
Editor-in-Chief
July 15, 2021