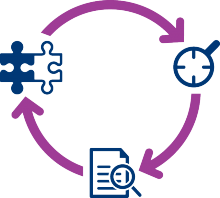 Cochrane's Project Transform team, in partnership with the LSR Network, have been working away for some time on the methods, and production and publication processes needed for Cochrane to be able to pilot Living Systematic Reviews (LSRs).
After successful meetings and events at the Cochrane Colloquium in Seoul, and a recent two-day workshop following the Canadian Cochrane Symposium, the pilots are very nearly 'go for launch'!
In preparation for this milestone, we have published a Living Systematic Reviews web page where you can learn more about Living Systematic Reviews and the LSR Network, take a look at the guidance we have developed to support the pilots, and access webinars and other useful resources.
Support for Project Transform was provided by Cochrane and the National Health and Medical Research Council of Australia (APP1114605). The contents of the published material are solely the responsibility of the Administering Institution, a Participating Institution or individual authors and do not reflect the views of the NHMRC.
27 June 2017