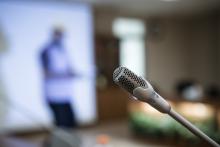 Following discussions during and after the Edinburgh Colloquium (2018), the Governing Board requested that we revise the current spokesperson policy in order to provide more clarity and guidance for people in leadership positions within Cochrane. 
We are pleased to share this revision with you here.
This now includes a section on applying the policy in practice, which is a response to suggestions received from many people across Cochrane, to provide practical examples. 
We now wish to invite our Community to review and offer further suggestions. The policy will also be discussed within the various Group Executives as part of the forthcoming Governance meetings in Manchester on April 1st. Following these meetings, we will consolidate input received, revise the policy and share a final version for consideration by Cochrane's Governing Board.
Please submit all feedback to sdehaan@cochrane.org by March 20th, 2020.
Further important information regarding the Manchester meetings, including a more detailed agenda relating to the strategic sessions will be shared over the next week - you can find the full, updated programme here.  
February 26, 2020