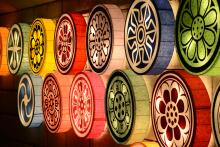 We're posting all the highlights from the 2016 Cochrane Colloquium here - watch this space as we'll continue to update with new stories as we receive them!
Colloquium by the numbers
813 participants from 49 countries
96 workshops
191 posters
151 oral presentations
Plenary and AGM videos now available
Videos from all four plenary sessions, including the Annual Cochrane Lecture, as well as the full 2016 Annual General Meeting, are now available on Cochrane's YouTube channel.
Colloquium stories
People who were part of the #CochraneSeoul experience are sharing their stories - read a blog post from the UK-based Evidence Synthesis team, a blog post from Cochrane Croatia, a blog post from Cochrane Australia, and  a Storify of key tweets from a US contributor. And if you've got a story to share, let us know!

2016 Cochrane prize and award winners
Each year Cochrane presents a number of prizes and awards to contributors to recognize contributions to our work and organization made in various ways - find out more about the 2016 selections.
Cochrane Community's response to Strategy to 2020
Cochrane's 2016 Annual General Meeting included a Special Session where the Cochrane Community had the opportunity to share their stories of responding to the challenges of Strategy to 2020. As well as live presentations from a selection of Cochrane Groups from around the world, the session included this video highlighting just a few stories among many of what Strategy to 2020 means to Cochrane Groups and their work within local contexts:
Steering Group decisions from the 2016 Cochrane Colloquium
Read about the many decision coming from the meeting of the Steering Group.
Seoul Colloquium Pictures
Browse through pictures taken at the Colloquium! You are welcome to use these pictures on your Cochrane website, newsletters, and social media. If you have pictures you would like to contribute, please contact mumoquit@cochrane.org

November 15, 2016