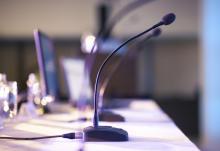 Since the start of the year, the Governing Board and Council have each been holding monthly meetings by videoconference. These alternate between meetings with formal agendas; and 'agenda-less' meetings, which provide space for more informal, free-flowing discussions that can be difficult to create in virtual meetings. This month, both the Board and the Council held formal meetings.
 
Governing Board:  
The Governing Board met on 11 May. If you want to read the papers from the open access agenda pack, they're available to download from the Board's pages on the Cochrane Community website.
 
The key decisions taken by the Board at this meeting were:
Approval to support a project that aims to find out more about the challenges and blockers in the review production pipeline, and for measures to support the finalization and publication of reviews. Learn more about plans for the future of evidence synthesis on Cochrane Community.
In-principle approval for Cochrane UK to host the 30th anniversary Colloquium in the United Kingdom in 2023. A detailed proposal for Board approval now needs to be developed, with a financial and risk appraisal.
For questions or comments about Board agendas, please email support@cochrane.org.
 
Council:
The Council met on 16 May. Council papers are available to download from the Council's pages on the Cochrane Community website.
 
The Council heard updates and provided constituency perspectives on the first four of its five priorities for 2022:
Support the operationalization of plans to restructure the organization under the future of evidence synthesis program of work and ensure the voice of Cochrane Groups is heard as this work is progressed
Reconsider the Council's own role, representation, and terms of reference in light of the changes to the organizational structure
Deliver a set of organizational values for Governing Board approval
Improve Council communications to Cochrane Groups and the wider community
Contribute to the strategy to deliver Open Access to Cochrane Reviews whilst maintaining the financial sustainability of Cochrane Groups and the Charity
If you have an issue you'd like the Council to discuss, contact your representatives, or email support@cochrane.org.
Tracey Howe & Catherine Marshall
Co-Chairs, Governing Board
26 May 2022