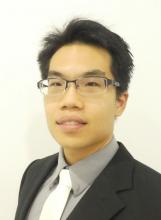 TaskExchange Champ: Aidan gains authorship through translating on TaskExchange: Aidan gains authorship through translating on TaskExchange
Welcome to the next instalment of the TaskExchange Champs series, where we showcase the great people using TaskExchange and how they're making the most of the platform.
This month our TaskExchange Community Engagement and Partnerships Manager Emily chatted to senior resident in Preventive Medicine (Public Health), translator and sweet dessert connoisseur Aidan Tan.
Name: Aidan Tan
Age: 31
Occupation: Doctor
Program: Preventive Medicine, National University Hospital, Singapore
Health Services & Outcomes Research, National Healthcare Group, Singapore
What is your current main job/role? Can you tell me a little about that?
I'm a senior resident in Preventive Medicine (public health), with a focus on health services research. My job is quite diverse outside of primary care and preventive medicine clinical work. It covers multiple domains: epidemiology, biostatistics, programme evaluation, infection control and even health protection/promotion. For example, two of my research recent projects are: designing of a comparative clinical study for MRSA (Methicillin-Resistant Staphylococcus Aureus) infection control, and a retrospective cohort study describing the prevalence and incidence of atrial fibrillation (a cardiac condition that can lead to stroke) among those with metabolic syndrome.
How do you use TaskExchange?
I admit, I am quite technologically challenged, so I don't utilise IT to the fullest! I visit TaskExchange mostly to find any translation tasks that I can help on.
What sort of tasks do you apply for?
Unfortunately, I don't have the time to help intensively on many of the tasks! Translation, screening and data abstraction is what I apply for, mainly due to the flexibility in timing.
What motivates you to get involved on TaskExchange?
I started in 2016, when I had a stint with Cochrane France. One of the researchers there requested for my help in screening Chinese articles and to abstract the required data. From there, it was only a matter of time before I found TaskExchange and offered my help to the other groups!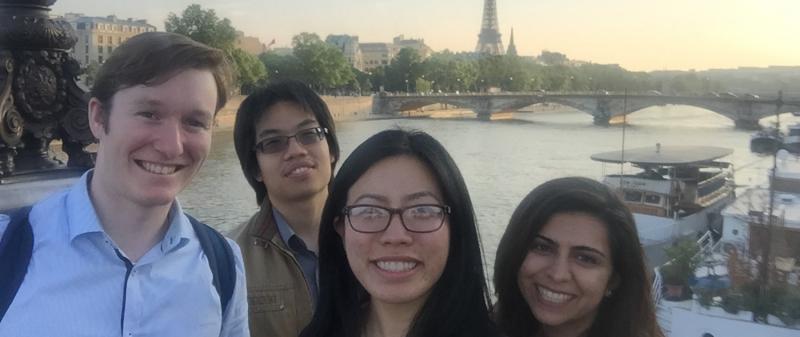 Aidan, second from left, enjoying the Seine with colleagues from Columbia University. This was in 2016 during his time with Cochrane France.
There are many Chinese trials and studies out there! However, due to the language barrier and differences in technical/medical terminology, these studies are often passed over. There is a wealth of knowledge in these studies, and it is a waste for them to be published but not utilised! I imagine this is the same for other language studies (Spanish, Dutch, French…).
Aside from my personal agenda, TaskExchange has been a great way to get involved in evidence generation for future users and clinicians worldwide! Cochrane reviews have been, and still are, one of the major sources of information that guide health-related policy and clinical practice. TaskExchange is an easy and convenient way to contribute to this!
Has TaskExchange been successful for you? I hear that you were invited to be an author on one of the tasks you worked on. How did that happen?
TaskExchange is a great platform! As someone who has issues with Microsoft Office, I can safely say that it is quite easy to navigate (and I like that the buttons are big too). It is easy to find tasks, and the 'appropriateness level' is a nice touch!
It was actually that which led me to becoming one of the authors! I had helped the Cochrane Incontinence group previously on translating/screening and extracting data for some papers. Some time after, Sheila contacted me to ask if I could help with a couple more.  It was to my surprise after it was done, the team wanted to 'meet' me and offered authorship! It was entirely unexpected, and it really helps that to see that even the small tasks are appreciated and can reap unexpected returns!
How do you keep on top of the tasks being offered?
It is a bit of a relaxation thing for me, funnily enough! The papers I translate are often in areas I don't actively work in, so it helps me to disengage from my usual work mentally, and that is a refreshing feeling.
I do try to pace myself though – and that is the wonderful thing about TaskExchange. You have the option to take on as much as you feel you can handle. And you may find that it is less time-consuming than expected!
What happens once you apply for a task and are chosen? E.g., how do you communicate with the task poster and make sure you get the job done well?
When I apply for a task, there is an option to leave a message about how I can help. In that box, I leave my contact details (email), for the poster to get back to me at their own time. I try to be clear on what I can or cannot do, and that helps to set expectations. For instance, if the request is for translation of a full article, I may apply for the task but lay out that translations can take a while – with timeframe of weeks rather than days. However, I do also offer what alternatives can be done – such as a quick screening to see if it fits (and thereby bypassing the need to translate the whole article), or just the pertinent sections.
It helps to know what the task really entails! A full translation request may just be a request to screen the abstract. The translation being a means to that end. Have experience in screening, risk of bias assessment and data abstraction, I can help to do the entire process without having to do the tedious thing of translating the whole article!
I guess it really boils down to having open communication channels and being clear on what is really being requested. Oh, and having good follow-up in case anything's unclear or needs to be clarified!
What benefits are there, to getting involved with TaskExchange as a helper?
I find it relaxing, but that is probably my weird quirk. Being a helper or volunteer on TaskExchange can be mentally stimulating (or challenging) for translations, because you never quite know what posters can ask for! It can deepen your knowledge of the language, especially when it comes to technical terminology, or even how certain situations or environments are described!
It also helps you think critically – risk of bias assessments really forces you to consider the weaknesses or strengths of a study! It makes you question even daily news or radio casts about 'the latest study on coffee/chocolate". Plus, it makes you sound intelligent over the dinner table when family and friends bring up that controversial coffee/chocolate study and you get to throw in big words like 'randomisation' or 'blinding'.
And finally, there's the glow of helping someone. That's what volunteering and helping is for, isn't it?
Do you have any tips for other people on how to get chosen for a task!?
It's really a matter of being persistent and being explicit on how you can help! TaskExchange does all the work of putting the requester and the helper together on the same platform. From there, it's a simple process of saying "hey, I want to help, and this is what I can do! I've done it before, see Exhibit A!" or "I want to help, it's my first time, but I can do this because I've got background in the area!"
There are tasks that I don't get a response from, and that's okay. It just means that they've either found a solution on their own, or someone else has done it. Just go on and apply for the next one!
Also, the Cochrane Collaboration is a wide global network. There may be local groups near you! There are seminars and training courses that they run sometimes, and those really help open your eyes to what really goes on in a review (and helps you find out which bits you really want to do!)
Any final words to people thinking about helping out on TaskExchange?
Volunteering and helping out on TaskExchange is for everyone and anyone! You don't need a PhD or a clinical doctorate. The tasks are a great way to get involved at your own time and own pace! Tiny things or small tasks may seem inconsequential at first, but they do add up on a grand scale.  Plus, it looks good on your CV to show that you're interested and willing to help!
And because we're not ALL about work… what is something fun that you're doing out of work?
Wait, TaskExchange is not considered fun?
I spend my downtime picking up and putting down heavy things repeatedly!  I've been doing it for a couple of years now, and it's a habit. A good habit (and necessary evil), really, since I eat like a hobbit and have the willpower of a limp noodle when it comes to dessert!
Haha! Tell me a bit about these desserts……?
Here is an unusual one; a molten lava cake on a thin biscuit, served on a bowl of choco pebbles and ice cream, absolutely a delight before eating! Poke it and let the lava flow down onto the ice cream for a visual treat too!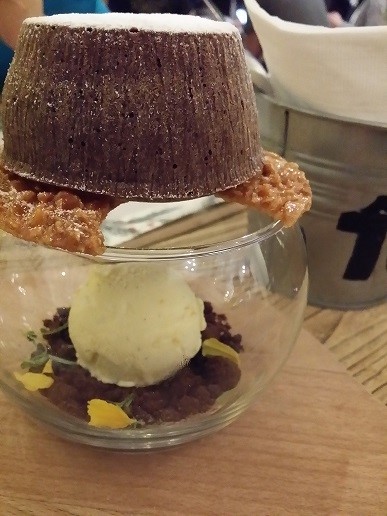 Aidan, this is wonderful! I am a little lost for words, that dessert is incredible! Thank you so much for chatting to me, it has been an absolute delight.
Thank you, Emily.
Do you have translation skills? Are you interested in helping out on TaskExchange? Sign up here. You might like to also read Six tips for helping out on TaskExchange.
Related Resources
August 9, 2019