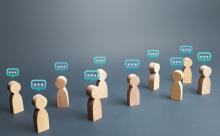 Following the Virtual Governance Meetings, held in June 2021, attendees were asked to complete an online survey to provide their feedback on the event, as well as their suggestions for future Cochrane events. This feedback was summarized in a report following discussion with Cochrane's Event Working Group, and the full feedback report is available here. Some key points are summarized below. 
Registrations: 443 registered from 56 countries
Actual Attendance: 360 attendees from 49 countries
Survey Responses: 67 (18-19% Response Rate)
Overall experience of the core elements of the event were received as satisfied or very satisfied at 77% or over taking into account any specific areas of non-attendance.
Registration and access to the platform:



Total: 92% satisfied or very satisfied

Finding your way around the platform:

 

Total: 87% satisfied or very satisfied

Breakout Sessions:

 

Total: 64% satisfied or very satisfied

NB: 14% did not attend

Opening Plenary:



Total: 77% satisfied or very satisfied

 
Summary of recommendations and improvements
Lack of captioning for speech to text has been a consistent theme as well as mentioned live during session 1. For session 2, a Google Chrome Browser captioning plugin was offered and tested, it worked very well during the Main Plenary, however it was noted it struggled to translate in one of the breakout groups, specifically with a strong American accent. This is recognised as an important accessibility function and needs to be implemented going forward for all events with the potential for paying for an external individual to provide the service live during events.
More opportunity for increased attendee participation. It was noted in the feedback that attendees would like an opportunity for debating, more question and answer time, as well as interaction and evaluation from the polling function.  
It was suggested that the speaker selection could be deemed as quite hierarchical in nature and questioned: are we representing the wider Cochrane Community? It was suggested that future speakers should involve members of the Council to present or key constituent groups to a wider representation at events. This was endorsed by members of the Events Working Group. 
Recognised that the virtual format does widen attendee participation, for those who would not normally be able to attend in person. Taking into account virtual event fatigue, it would still be seen as a positive to integrate regular virtual Community events/meeting into our planning in the future regardless of in-person events.
In addition, a summary of questions and themes that arose during the Governance Meetings has been prepared. Read the summary.
You can view the recordings and look at the presentations from the Governance Meetings here. 
July 23, 2021