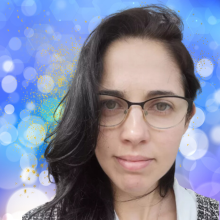 Dr Thomas Chalmers was an outspoken advocate of randomised trials, whether at the bedside, at professional meetings, in class or in situations pertaining to his own life. His creativity spanned his entire career, influencing clinicians and methodologists alike. He is perhaps best known for the notion 'randomise the first patient', his belief that it is more ethical to randomise patients than to treat them in the absence of good evidence. In his later years, in arguably his most important work, Tom and his colleagues showed that had information from RCTs been systematically and cumulatively synthesised, important treatments such as thrombolytic therapy for myocardial infarction would have been recognised as useful much earlier.
The Thomas C Chalmers Award was initiated by Tom Chalmers himself and further supported with individual donations from friends and family to celebrate and recognise Tom's interests and achievements. The prize is awarded to an early career investigator presenting on methodological issues at the Cochrane Colloquium. The presentations must demonstrate originality of thought, high-quality science, relevance to the advancement of the science of systematic reviews and clarity of presentation.
The Thomas C Chalmers Award for Best Poster Presentation goes to Mayara Silveira Bianchim, Patient and Public Lead for the Centre of Population Health and Research Officer at Bangor University. May is currently based in Swansea, Wales.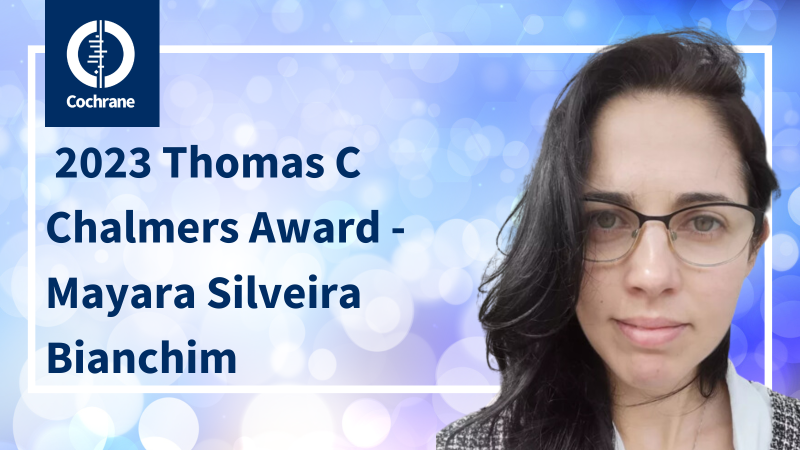 May won for her poster presentation called 'Co-producing with children and young people on a meta-ethnography on experiences of chronic pain, treatments and services'

Background: Childhood chronic pain is a worldwide public health issue. We conducted a qualitative evidence synthesis using meta-ethnography, with patient and public involvement (PPI) in all review stages. We investigated the experiences and perceptions of children with chronic pain and their families of chronic pain, pain treatments and services. PPI in every stage of a systematic review or evidence synthesis is rare. We will co-present with young people with chronic pain and parents.
Objectives: To involve children with chronic pain and their families and other key stakeholders in the meta-ethnography study design, analysis, interpretation and dissemination to ensure salience of findings. To describe involvement methods and impact.
Methods: Thirty-three stakeholders, including children, parents, health professionals and third-sector representatives, took part as co-producers via workshops, meetings, email, and conference calls. They participated in developing the grant proposal, finalising the review protocol, making decisions about sampling and organising studies for synthesis and interpreted and disseminated findings. We created innovative methods to involve children and stakeholders in analysis and interpretation, e.g., we conveyed screening results using infographics and developed cartoons to show preliminary findings to facilitate discussion during workshops to clarify, interpret and/or address gaps in data.
Results: Stakeholders suggested additional sources for the literature search strategy, decided we should include non-UK studies in the sample, and agreed that we should group studies by pain condition for synthesis. PPI provided different perspectives on and interpretations of ambiguous data, challenged the review team's interpretations and filled gaps in data based on their experiences. A young person with chronic pain co-presented at a nursing conference, and PPI co-developed an animated cartoon to disseminate findings to children and young people.
Conclusions: We believe this is the first meta-ethnography to involve patients, parents and other stakeholders as partners in every stage from inception to dissemination. Their involvement in study design, analysis, interpretation and dissemination ensured the relevance and usefulness of the review outputs, clarified ambiguous (and controversial) findings and was key to producing meaningful findings to enhance policy and practice.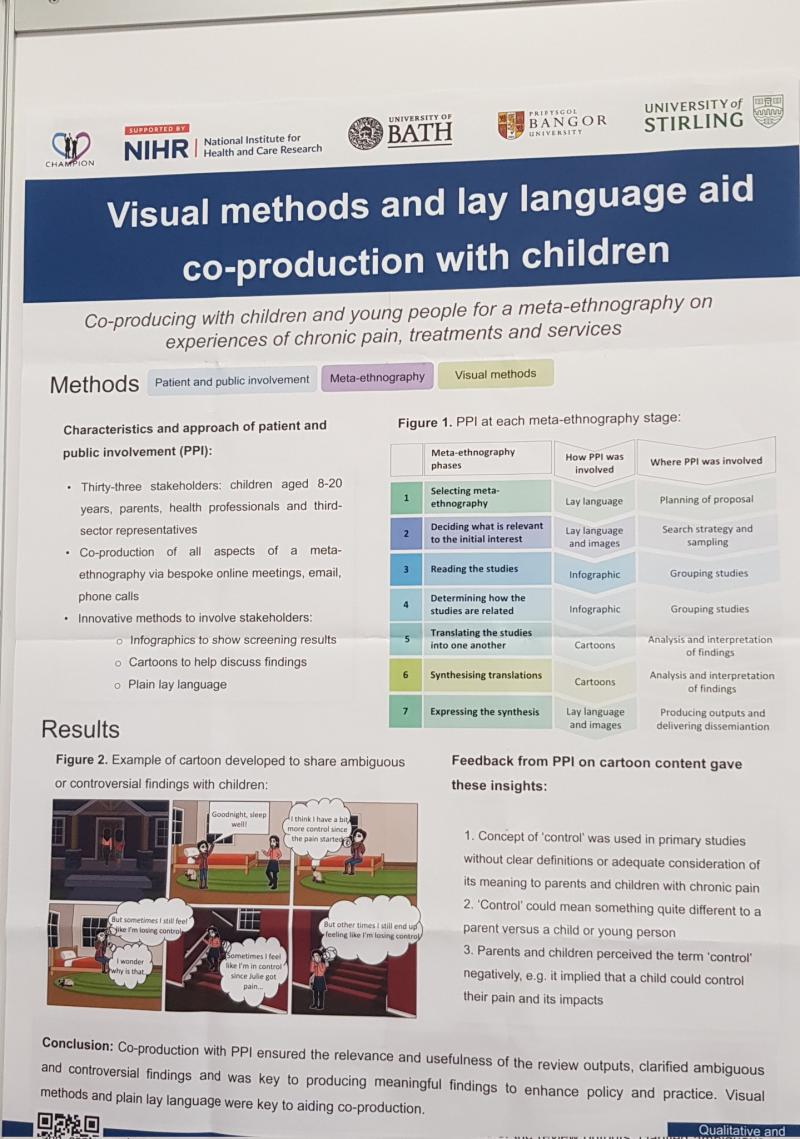 We interviewed May to gain insight into her thoughts on the significance of this prestigious recognition.
What made you decide to enter for this prestigious Cochrane award?
My research was all about finding innovative and creative ways to co-produce research with children and their families. I entered the award because I believe in the impact and benefits of co-producing research with the public.
Can you tell us a little more about what made you decide to enter for the award and the process involved?
I'm part of a team led by Dr. Emma France that co-produced a study investigating children's experiences with chronic pain. I developed innovative methods such as cartoons and infographics, to help us collaborate with children and their parents. I decided to enter the award because I firmly believe in the importance and impact of collaborating with members of the public to keep the research grounded and produce meaningful outcomes.
What does this award mean you, personally?
I'm honoured and humbled to have received the award. Cochrane is recognised as the highest standard in evidence-based health and care research. This award is very meaningful as it solidifies all the hard work from our patient and public members and the research team. I'm proud of us and excited about our future work together.
What's been the impact to you, and your work, winning the Award?
I'm hoping to continue developing this research and translate it into practice during a Research Fellowship. The award recognises the value and significance of continuing this work and it will be key to underpinning a future fellowship application.
21 September 2023