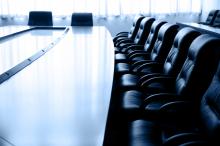 Dear Colleagues,
We are delighted to announce the results of the recent elections and appointments to the Governing Board:
Co-Chair:
Martin Burton has been appointed by the Board as its Co-Chair for a term of two years. Martin served as a member of the Board until this month, and already has substantial leadership experience in Cochrane as Director of Cochrane UK and Co-ordinating Editor of the Cochrane Ear Nose & Throat Review Group. Martin is based in Oxford, UK, and will share chairing duties with Cindy Farquhar, who is Co-ordinating Editor of the Gynaecology and Fertility Review Group, and is based in Auckland, New Zealand.
Two internal members:
The election of internal members has now concluded, and you have elected the following two candidates for a term of three years:
Tracey Howe
Joerg Meerpohl
Tracey Howe is Director of the Cochrane Global Ageing Field and is based in Glasgow, UK. Joerg Meerpohl is a serving Board member who has now been re-elected. He is Co-Director of Cochrane Germany and is based in Freiburg.
Sincere thanks go to all the candidates who stood in this election; their contribution and willingness to volunteer their time is greatly appreciated.
Three external members:
The Board has appointed three external members for a term of three years:
Maria Gladys Faba Beaumont
David Hammerstein Mintz
Rae Lamb
Maria Gladys Faba Beaumont is a sociologist by training and works with the National Institute of Public Health in Mexico and the Pan American Health Organization; she is based in Mexico City. David Hammerstein Mintz is a civil society advocate for the Commons Network, an organization he co-founded. He is also a former Member of the European Parliament and is based in Valencia, Spain. Rae Lamb is Aged Care Complaints Commissioner for Australia and has a background in health journalism and health services research; she is based in Melbourne.
The candidate statements of all elected and appointed members are available for you to view on Cochrane Community website, as is the vote count for the internal election. The elections and appointments are governed by the Board electoral and appointment procedure.
The members of the Board congratulate and welcome the new members and extend their grateful thanks to Lisa Bero, outgoing Co-Chair; and Mona Nasser and Denise Thomson, outgoing Board members, for their outstanding contributions to Cochrane as members of the Board.
Questions about any aspect of this process should be sent to elections@cochrane.org.
July 27, 2017