November 2020 Webinar
Join the Conversation: Cochrane's Editorial Management System
Introduction
Announcing Cochrane's new Editorial Management System
Obi Onuora, Publishing Technology Manager, Publishing, Research and Development, Cochrane Central Executive
Editorial workflow community consultation results
Rachel Marshall, Senior Editorial Officer, Editorial & Methods Department, Cochrane Central Executive
Looking forward to implementation of the Editorial Management System
Chris Champion, Head of People Services Department, Cochrane Central Executive
Sign up today!
Thursday 5th November 8:00-9:00 am (UK time) - [check the time in your time zone] SIGN UP HERE
Thursday 5th November 4:00-5:00 pm (UK time) - [check the time in your time zone] SIGN UP HERE
You will need a Cochrane Account to sign up for this webinar. If you don't have a Cochrane Account you will be able to register for free on the following page. You will be able to use this account for all future activity. A brief guidance on how to sign up using your Cochrane Account is available here and if you have any problems, please contact support@cochrane.org.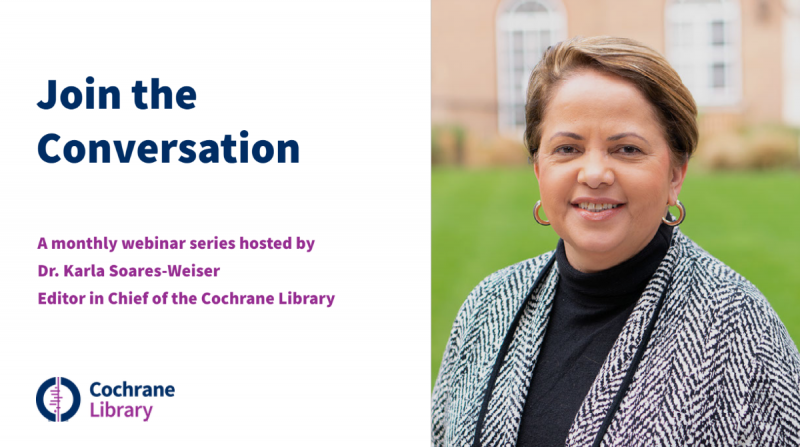 Each month, you are invited to join a 60 minute interactive webinar hosted by Cochrane's Editor in Chief, Karla Soares-Weiser. This is an opportunity to hear more about Cochrane's Editorial and Methods Department's (EMD) strategic plans and their implementation by senior editorial staff, as well as the work from Cochrane Groups from around the world. 
Karla will introduce COVID-19 and non-COVID-19 related topics and we'll hear about ongoing editorial priorities, achievements and best practice from Cochrane Groups and Review Group Networks.  There will also be an opportunity for questions and discussion.
The sessions are open to every Cochrane member and supporter, and they will be recorded and shared via our website for those who can't attend. Do you have suggestions for topics you'd like to see covered in these webinars, or questions you'd like to ask? Please send them to Nazia Afzal – nafzal@cochrane.org
Prior webinars
October 2020 webinar
Cochrane Library Deputy Editor in Chief Toby Lasserson hosted this webinar. 
Introduction
Comparison of preprints with final publications on COVID-19: Discrepancies in Results Reporting and Conclusions
Matthew Page, Senior Research Fellow and ARC DECRA Fellow, Research Methodology Division, School of Public Health and Preventive Medicine, Monash University (a.m. session) 
Quinn Grundy, Assistant Professor, Faculty of Nursing, University of Toronto (p.m. session)
Cochrane's revised Conflict of Interest Policy for Cochrane Library Content: Some common issues 
Ruth Foxlee, Editorial & Methods Department, Cochrane Central Executive 
Cochrane policy on scientific misconduct: an update
Stephanie Boughton, Cochrane Research Integrity Editor
September 2020 webinar
Introduction
Cochrane Review Plain Language Summaries and Abstracts – Toby Lasserson, Deputy Editor in Chief, Cochrane Library
Managing Editor Experiences with Review Production: Support provided to author teams in review development and the editorial process – Emma Dennett, Managing Editor, Airways Group (morning session), Jordi Pardo Pardo, Co-Managing Editor, Musculoskeletal Group (afternoon session)
Cochrane COVID-19 Study Register and the future of review production – Chris Mavergames (morning session), Robin Featherstone (afternoon session), Cochrane Central Executive
Karla's update
August 2020 Webinar
Introduction
Cochrane's next strategic plan: learn about the foundations of Cochrane's plans for the future, and help to shape them – Lucie Binder, Head of Governance & Strategy Unit, Cochrane Central Executive Team
COVID-19 Living Systematic Reviews: Convalescent plasma or hyperimmune immunoglobulin for people with COVID‐19 – Vanessa Piechotta, First Author
COVID Reviews: Updates to the Cochrane COVID Review process – Kayleigh Kew, Senior Methods Editor, Editorial & Methods Department, Cochrane Central Executive
Karla's update 
View a recording of this webinar.
July 2020 Webinar
Karla's update
Learn about Cochrane's Research Integrity Team and their research agenda. Presenters: Stephanie Boughton, Research Integrity Editor (morning session), Lisa Bero, Senior Research Integrity Editor (afternoon session)
Hear from Charlotte Pestridge about Cochrane's new publishing agreement with Wiley
Cochrane Ireland has undertaken a variety of activities related to COVID-19; Declan Devane will present about their COVID-19 response work
View a recording of the webinar.
June 2020 Webinar
1. Meet the Editor and Deputy Editor in Chief 
2. Karla's update on  Cochrane's COVID-19 Response 
3. Toby Lasserson: Update on Cochrane COVID-19 work (Rapid Reviews, Special Collections, etc.)
4. Hear from COVID-19 Working Group members (Speakers: Sally Green in morning session, Jordi Pardo in afternoon session)
5. Invited speakers from Cochrane Groups
Catherine Houghton, author of "Barriers and facilitators to healthcare workers' adherence with infection prevention and control (IPC) guidelines for respiratory infectious diseases: a rapid qualitative evidence synthesis" 
Asger Sand Paludan-Müller, authors of "Hand cleaning with ash for reducing the spread of viral and bacterial infections: a rapid review" (morning session only)
Barbara Nußbaumer-Streit, author of "Quarantine alone or in combination with other public health measures to control COVID‐19: a rapid review" 
6. Q&A